Back to Meet Our Ambassadors
TURTLEBOX AMBASSADOR
Shane Dorian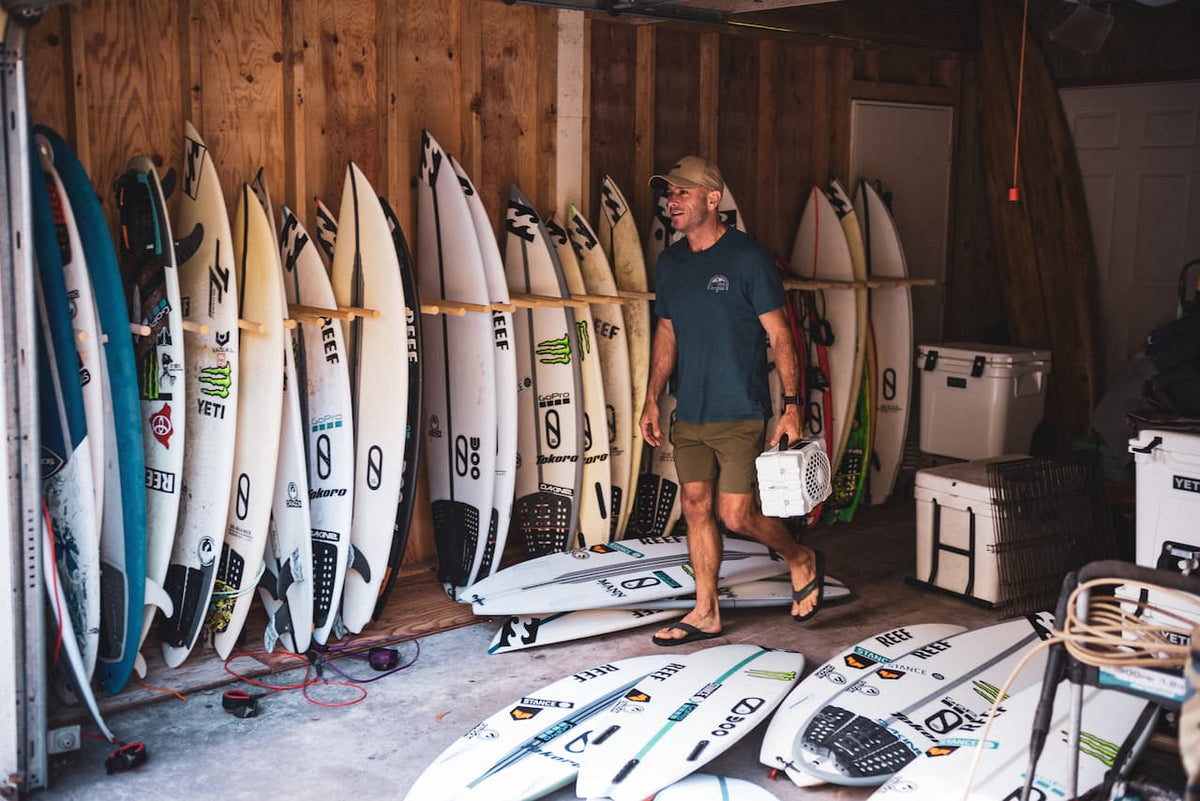 One of the most prolific and respected surfers of his generation
As one of the most prolific and respected surfers of his generation, Shane Dorian has played a critical role in the pursuit, innovation and stewardship of the sport. When he's not charging into giant waves, you'll find him in the highlands bow hunting for axis deer, dabbling in the stock market( possibly from the bench in his sauna) or spending quality time with his wife and kids.
Growing up in Hawaii, Shane was in and around the water from an early age. At 5 years old, after spending some time on a bodyboard, Shane's father gifted him his first surfboard. Amongst close friends, including other legends like Kelly Slater & Rob Machado, a teenage obsession evolved into competing for over a decade on the World Championship Tour. Soon after, Shane shifted his interest to paddle-in big wave riding. Eventually winning WSL's "Ride of the Year" award for paddling into a barreling 57 foot wave at the infamous "Jaws" surf break in Peahi,HI.
He has become a well known figure in the surf community and is a great mentor to many of today's talented young surfers, including his son Jackson. In addition to being a committed family man, he is also a leader of innovation. After nearly drowning from a wipeout at Mavericks, Shane was inspired to design a C02 charged, inflatable wetsuit that is now a standard piece of gear in the kit of every big wave surfer out there. We are proud to partner with Shane and thrilled to support his passions through the use of our product. We made a visit to his home on the big island, delivered some speakers and got to ask him a few questions. Check it out!
What is your profession? Did you always know this is what you would end up doing or was it something you "stumbled into"?
Professional surfer. I realized I wanted to be a pro surfer around 14 years old and became hyper focused on making that happen. I even moved to another island (Oahu) by myself to pursue surfing when I was 15.
Favorite movie?
Shawshank Redemption
Favorite book?
Atomic Habits
When you're not working, what are you doing for fun?
Definitely bowhunting and snowboarding.
Coolest place you've ever traveled?
Morocco
Bucket list destination you haven't been yet?
Greece
You're stranded on a deserted island, who's coming with you and why?
My buddy Justin Lee because he always is optimistic and has the best attitude for solving problems.
You get to have drinks with anyone (dead or alive) - who are you calling?
Probably Jimi Hendrix
What advice would you give an 18-year-old that wants to do what you do?
Take a real hard look to see if you are actually obsessed with it. Otherwise you have no chance. The job is too good and that means there is crazy competition so only obsession will get you there.
Any guilty pleasures?
Dark Chocolate and peanut butter. And Mezcal Margaritas every now and again.
Favorite wild meat/fish to eat? (i.e. venison, dove, quail, king fish, redfish, etc.) And in what kind of meal do you prepare it/eat it?
Hawaiian axis deer venison. I love making tacos, or grilled tenderloins.
What's your favorite element of Turtlebox? (battery life, durability, waterproofness, sound, togetherness, elevating experiences)
Probably how waterproof it is. I can take it on the jet ski or a boat trip and not have to worry. I also take it in my sauna to listen to music or podcasts which i love.
How do you use your Turtlebox?
I bring it to the beach to have a surf day with friends and it makes hanging out that much more fun. It brings people together!