Back to Meet Our Ambassadors
TURTLEBOX AMBASSADOR
Matt Pittman
Waxahachie, TX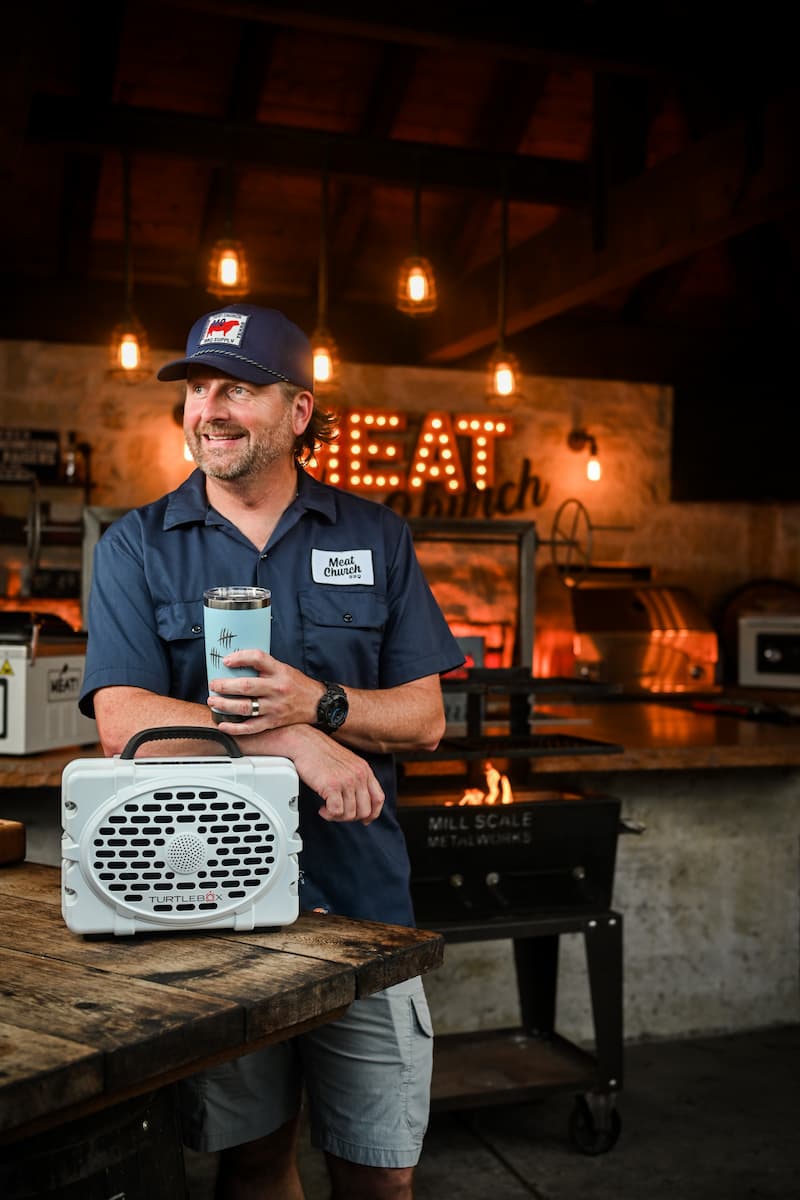 Pitmaster, Father & founder of MeatChurch
Now the owner & operator of one of the most popular BBQ brands in the world, Matt Pittman's journey to pit master sainthood started at a young age. Growing up in Texas, Matt learned to cook from his Grandma June, sparking an interest that never faded, eventually leading him down the path of BBQ righteousness.
A straight route to college led to a long and successful career in IT & real estate, all the while feeding his passion of cooking on the side. Soon after a trip to Central Texas and a taste of real deal Texas brisket, that passion turned into a profession. This enlightening of the taste buds inspired a leap from corporate America to competition BBQ.
A chance to compete on TV with his brother and a quick business sense led to the bottling of his " Holy Cow" beef rub & the creation of MeatChurch. Now competing & passing on his recipes, knowledge & seasonings to people around the world, the grill stays hot!
When he isn't cooking up BBQ for celebrities or tailgating a Dallas Cowboys game, he and his wife Tracie are shuttling their 4 kids to sports, spending time at the lake or hanging out in the backyard. Music is a big part of the whole experience for Matt so we're proud to support his lifestyle through the use of our product. Recently we met up with the grill master himself and asked a few questions, some serious, some not so serious. Check it out!
What is your profession? Did you always know this is what you would end up doing or was it something you "stumbled into"?
Founder and CEO of Meat Church. Meat Church is about bringing people together to make great memories around good food. We make craft BBQ seasonings, lifestyle apparel and I teach outdoor cooking to students from around the world. I have a Finance degree and always thought I would be an entrepreneur or businessman. I've always had a passion for cooking and over the years realized I had a knack for teaching. I never knew my passion would be sharing my love of cooking with the world.
Favorite movie?
Friday
Favorite book?
"Good to Great" by Jim Collins.
Most inspiring quote, piece of art, saying, or advice that has impacted the way you live today?
"Mediocre people hate high achievers, and high achievers hate mediocre people." - Nick Saban
When you're not working, what are you doing for fun?
Uber-ing our kids around to their sports. Trying new food. Watching sports. Chilling at our lake house. Fishing.
Coolest place you've ever traveled?
We went on a remote fishing trip to Haida Gwaii, British Columbia Canada.
Bucket list destination you haven't been yet?
Fiji or Spain
You're stranded on a deserted island - who is coming with you and why?
My daughter Ava. She is tough as nails and the smartest person in our family.
You get to have drinks with anyone (dead or alive) - who are you calling?
My Papaw - He taught me to hunt. I wish we could talk about our first squirrel hunt again.
What advice would you give an 18-year-old that wants to do what you do?
Out-work everyone. Be early. Always be a self-starter and take ownership. Never have to be followed up on. Make your boss's job easier.
Any guilty pleasures?
Goober Peanut Butter & Jelly straight out of the jar with a hand cramping cold glass of milk.
Favorite wild meat/fish to eat? (i.e. venison, dove, quail, king fish, redfish, etc.) And in what kind of meal do you prepare it/eat it?
Elk, axis and any fish I catch especially crappie from my lake.
What's your favorite element of Turtebox? (battery life, durability, waterproofness, sound, togetherness, elevating experiences)
Waterproof & Durability. I'm near or on the water a lot. Not having to worry about it getting messed up in any regard is awesome. Plus, it's LOUD and the battery lasts all day!
How do you use your Turtlebox?
Music is my outlet. I crank music all day. I always play music when I'm cooking, when I'm trying to be creative or when I'm trying to have a good time. Obviously, I use it at my cooking events with my team, but I also always have it on at my lake house, which is a combination of hanging out, swimming or being on the boat. I love to float it in the ocean with me in the summers at our beach house while I'm having a cocktail or two.
Name the most famous contact in your phone
Troy Aikman